Do-it-yourself Drywall Repair Las Vegas is an excellent way to make your house look great without paying a fortune. The skills required are minimal, and the work is fast.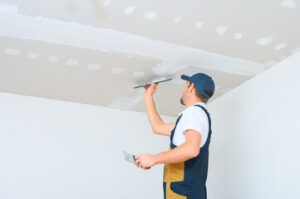 Drywall is susceptible to damage from a variety of factors, from minor dents and holes to large cracks. The level of damage is one factor that determines whether you can repair it yourself or should call a professional.
Drywall, or gypsum board, is a popular construction material that is typically used to make ceilings and interior walls. The material is comprised of thin layers of gypsum plaster that are squeezed between thick paper sheets.
If drywall is damaged by water, it can become soft and crumbly or even fall off the wall. The material can also be prone to mold and mildew growth.
It is important to repair water-damaged drywall as soon as possible to avoid further damage, including structural issues. The longer a water problem remains untreated, the more likely it is that mold will grow, and drywall will fall off the wall.
To begin repairing the drywall, first shut off the water to the room where the damage is occurring. This will prevent further damage and help to dry the wall. You may also need to have a professional remove the damaged area of drywall.
Next, find the source of the leak and fix it. This will prevent further damage and save you money in the long run.
Once you have identified the leak, call your local plumbing company and request an estimate for repairs. The company will send a technician to your home to locate the leaking section of the pipe and repair it using the best method for your specific pipes.
After the pipe is repaired, you can begin to replace the damaged drywall. To begin, cut a hole about six square inches in the drywall in the area with water damage. This will reveal the leaking section of the pipe and allow you to easily install a new piece.
When replacing the drywall, be sure to follow the manufacturer's instructions. You will want to use good-quality drywall tape to cover the seams and create a water-resistant seal.
Lastly, be sure to disinfect the area before continuing. This will ensure that any spores that are left behind do not re-infest the area.
Whether you need to refinish the drywall or fully replace it, drywall repair is an easy and inexpensive way to get your home back on track after a storm or flood. However, if the damage is extensive or you are not experienced with repairing drywall, you should hire a restoration services company to do the job.
Drywall is a popular interior construction material because of its low cost, and it can give your home a great finish. However, it is not indestructible, and it can suffer damage from time to time.
One of the most common types of damage that drywall suffers from is impact. This type of damage can be caused by a variety of factors, including moving furniture and children playing rough.
Depending on the cause of the impact, your drywall may experience cracks and dents. This can be fixed by filling the hole with a spackle and sanding it smooth after it dries.
Another type of impact that can damage your drywall is water. This is a common reason that many homes have cracks in their walls. If you have a leak in your roof, windows, or doors, the water can seep inside and cause your drywall to break.
When it comes to repairing holes, it is best to hire a professional for the job. This is because a reputable drywall repair company has years of experience and can do the job correctly.
There are also a few things that you should do before you begin repairing your drywall. First, you should check that there are no electrical cords or pipes behind the wall. If there are, you should not cut into the wall until you verify that they're in place and that it is safe to do so.
Next, you should check the drywall for any loose or damaged nails. This can happen when a nail isn't secured properly, which can pop out of the joint.