Kitchen remodeling is a great way to improve your home's value and give it a more modern look. It can also make your cooking more efficient and safer, especially if you upgrade your appliances. However, you must know that a kitchen remodel is costly. So, it is important to determine how you are going to finance it. You can do this by setting up a savings account or securing a home equity loan.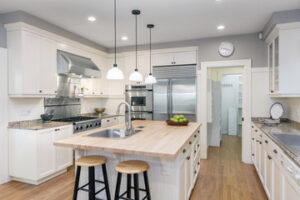 If you're thinking about remodeling your kitchen, it is important to hire a contractor. This will ensure that the job gets done properly and on time. J&R Construction has experience with kitchen remodels and knows what to expect. This can help you avoid costly mistakes that can affect the final product.
Whether you're planning a major remodeling project or need to replace some old appliances in your kitchen, upgrading them during the remodel process can make the whole room feel fresh and new. Upgrading your appliances can also help you save money on energy costs and increase the overall sustainability of your home. Appliances that have the Energy Star logo are more efficient than their predecessors and may cut your energy bill by up to ten percent or more.
You can get a good deal on new kitchen appliances during the fall season, when inventory is high at appliance retailers. Mid-range and high-end models are available, with functional features such as flat-top cooking, water filters and dispensers, temperature controls and self-cleaning options.
Adding a side sink to your kitchen remodel can help you better organize food prep and clean up. Whether you're cooking for two or 12 people, a second sink can help reduce food prep times and make the kitchen feel less overcrowded. The right sink can enhance the look of your space, but you need to find the one that will best suit your lifestyle and the way you use it. You can find single-bowl or double-bowl models, as well as a variety of styles.
Regardless of what you choose, be sure to measure the opening from under the existing sink so you can purchase a new sink that will fit correctly. The sink needs to be large enough to cover the opening without leaving gaps along the sides or falling through it.
Whether you want to remodel your entire kitchen or update one element, a new backsplash can give your space a new feel. A tile backsplash is a cost effective way to completely revamp the look and feel of your space without undertaking a full-scale renovation. It's also easy to install yourself and a great DIY project for even intermediate do-it-yourselfers, as long as you have the right tools.
To start, carefully measure your walls to determine how much tile you'll need. This will help keep your costs down and ensure that your tiles are cut to fit.
The right lighting can make or break the space during a kitchen remodel. Whether it's a single light fixture or a chandelier, it can create the perfect focal point and really set the mood in the room.
A layered approach to kitchen lighting brings the right illumination levels for each use and helps eliminate shadows and glare. For example, cove lighting along the walls would provide ambient lighting, and recessed downlights or ceiling-mounted central fixtures would illuminate countertops and sinks for task lighting.
Accent lighting, in between ambient and task lighting in brightness, can add to the drama of the space by highlighting architectural features or decor. It's also a great way to emphasize a particular design element, such as a decorative piece of art.
They also know how to keep the project on schedule and within budget. A good contractor will take the time to answer all your questions and offer helpful tips along the way. They should also have a portfolio of past projects that demonstrate their expertise.