Interior Designers design and renovate spaces that meet the needs of their clients. Their work can range from home interiors to medical facilities.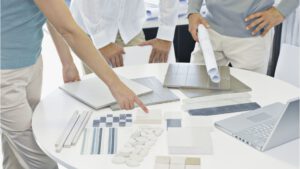 They must be able to create interior environments that adhere to building codes and regulations, as well as ADA requirements. They must also ensure that the space meets the intended purpose of the client and is beneficial for the people who live, learn, or work in it.
As an interior designer, you work with clients to create spaces that are functional and attractive. You determine space requirements and select decorative items, such as furniture, colors, and lighting. You also read blueprints and ensure that your designs meet building codes and inspection regulations.
You design the interiors of homes, hotels, and other commercial buildings. You assess functionality, sustainability, client branding, and business environmental factors to develop plans that meet a variety of objectives. You also work with a team of professionals, including architects and construction laborers, to ensure that your designs meet the needs of clients.
Your responsibilities as an interior designer include meeting with clients, determining goals for a space, creating a plan, sourcing products and materials, estimating costs, and inspecting construction to ensure that your design meets specifications. You must be able to communicate effectively with clients to understand their needs and wants.
The job requires specialized education in building codes, architectural and technological design elements, and environmental sustainability. Most designers work in consultancies, but you can also set up your own business or become a partner in a consultancy.
Most designers have at least a bachelor's degree in an area of specialty, such as interior design or architecture. A postgraduate qualification, such as a master's or PhD, can boost your career opportunities and give you a competitive edge over other candidates.
You may have to take an internship or work placement before starting a graduate program. This will help you build up a portfolio of design projects and experience.
During the program, you will learn to use computer-aided design (CAD) software to create sketches and drawings of your ideas. Many programs offer three-dimensional visualizations, which can be useful when planning interior spaces.
In addition to drawing, you will need to know how to create a project timeline and estimate costs. You will also need to oversee construction and installation and follow up with clients after your project is completed to make sure they are satisfied.
An interior designer can earn a salary ranging from PS18,000 to PS23,000. Salaries for junior designers can range from PS25,000 to PS40,000, while experienced designers often earn more than PS50,000.
Interior designers work with homeowners, business owners, and others to create the interior spaces they need for comfort, safety, and functionality. This is a career that requires formal education and certifications.
The education requirements for an interior designer vary depending on the level of study a student chooses to pursue. Associate degrees provide an overview of the field, while bachelor's degrees build on the skills acquired through associate programs to give graduates a more robust body of knowledge.
A bachelor's degree typically takes four years to complete, and in some states, the National Council for Interior Design Qualification (NCIDQ) exam is required before a student can practice. In addition, many schools offer a bachelor of fine arts or a bachelor of science degree in interior design.
Some schools also offer certificate programs in specific areas of the field, such as kitchen and bath design. These are shorter degrees that take less time to complete and are ideal for students who already have a bachelor's degree but want to expand their education in an area of interest.
Graduates of an associate or bachelor's degree program have a wide variety of job options, including working for large design firms, starting their own firm, or becoming independent designers. Some schools also offer specialized certifications that allow them to specialize in areas like healthcare, residential kitchen and bath, green building, or remodeling.
While a bachelor's degree is usually the minimum education needed to be an interior designer, many aspiring professionals prefer to earn a master's degree. This can help them hone their design and project management skills, as well as develop a better understanding of the business side of the industry.
If you have an innate sense of style and are passionate about creating a beautiful and functional space, consider pursuing an interior design degree. It's a field that rewards creative and problem-solving skills, and it can be a lucrative career path for people with the right qualifications.
A Bachelor of Fine Arts in Interior Design combines theory with practice through studio courses focusing on residential, workplace, and hospitality interiors. It also provides opportunities to explore sustainable design, healthy materials and practices, and analog and digital drawing and rendering techniques.