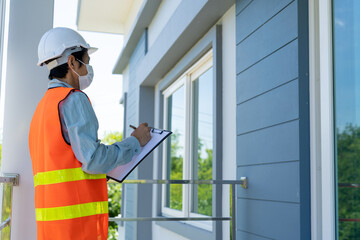 Home Inspector Licensing is required before you can work as a home inspector. Your state determines the certification requirements, and then you get your license by taking some online training courses. Depending on your state, you can take courses offered by a national or local association. Make sure to choose an association that provides training for home inspectors.
There are several ways to obtain a home inspector's license. First, you must complete the required courses. There are many online courses that will help you become a licensed home inspector. You can even take them part-time in your free time. In addition to taking an online course, you may also consider taking an on-site course with a certified home inspector. To make it easier for you, many of these programs offer both online and in-class options.
The next step in becoming a home inspector is taking a licensing exam. The National Home Inspection Exam is a four-hour exam that requires 200 multiple-choice questions. Scores range from 200 to 800. If you've passed the exam, you can take the next step toward licensing your home inspection business. It's important to remember that continuing education is vital to getting your license.
To become a licensed home inspector, you must complete the educational requirements. If you're a licensed home inspector in a state without licensing requirements, you can still apply for one. The Board of Registration of Home Inspectors evaluates applicants and grants licenses to those with the required education and experience. It also sets minimum inspection requirements for licensees and ensures that they are qualified and trained to perform the job. There are also continuing education requirements for home inspectors, so you'll need to complete continuing education classes if you want to renew your license.
InterNACHI is an organization that provides home inspector training and business resources. As a member, you'll gain access to their training courses, as well as to other resources that will help you grow your business. Membership in InterNACHI will give you credibility and a network of colleagues. This association is a good place to start learning how to become a home inspector. The InterNACHI website also includes a list of useful online courses.
When you're preparing to become a licensed home inspector, you should invest in continuing education and networking opportunities. If you don't already have any training or certifications, consider taking CE certification or professional development courses. These classes will improve your knowledge of home inspection and help you advance in your career. However, if you want to be a better home inspector, you can always refer a friend or professional who can help you with the licensing process.
While architects, engineers, and code enforcement officials are exempt from these licensing requirements, home inspectors who want to set up their own businesses must obtain a license. After meeting the education requirements, you must pass a written exam. Your license is good for two years. Once it expires, you'll need to reapply to renew it. If you are a licensed home inspector, make sure to read the regulations carefully.
Before becoming a home inspector, it's essential to know the licensing requirements for your state. Depending on your state, you might have to take a training course if you want to work in this field. It's important to make sure your qualifications are high. Contact a home inspector training program for more information on how to become a certified home inspector. The training is not only affordable but will make you a better inspector in the long run.
You'll need to complete a course that meets state requirements and is accredited by the Professional Home Inspection Institute (PHII). Some states don't require you to take a certification exam, so you should check with your state to be sure your course is approved before taking it. Most states have a licensing examination, but not all. After you have completed the state requirements, the next step is to pass the exam. It takes about five months to complete the course, depending on your state's rules.
Additionally, you must have at least two years of work experience as an inspector. After graduating from your course, you can work as a home inspector in any of the cities. After you earn your license, you must complete at least 24 hours of approved continuing education. There are several ways to complete your education to become a licensed home inspector.